2.7 million-square-foot office and industrial park proposed near Phoenix Goodyear Airport
A massive office and warehouse park, called Airpark Logistic Center, planned near the Phoenix Goodyear Airport could begin rising this fall.
The project will include five buildings along Yuma Road and Bullard Avenue in Goodyear totaling 2.7 million square feet on 170 acres, according to plans submitted to the city of Goodyear. The buildings, which will be built in two phases, will range in sizes from 320,320 square feet to 730,290 square feet.
"We've got site plan approval, that was done last week," said John Mocarski, a project architect at LGE Design Group, the architecture firm on the project. "We are submitting our drawings, probably in the next two weeks so there's probably a 30-day review time."
Mocarski said he expects to receive a building permit from the city of Goodyear in September.
"They're gung-ho all about it," Mocarski said, regarding the Goodyear City Council, which approved the preliminary plat for the Airpark Logistics Center at its regular meeting on June 21.
The preliminary plat for Airpark Logistics Center subdivides approximately 170.25 acres into five industrial lots, ranging in size from 21.81 acres to 47.11 acres. The smallest lot, at the southeast corner of Yuma Road and Bullard Avenue has an underlying zoning of I-1, light industrial. The other four lots, located on the east side of Bullard Avenue have an underlying zoning of I-2, general industrial.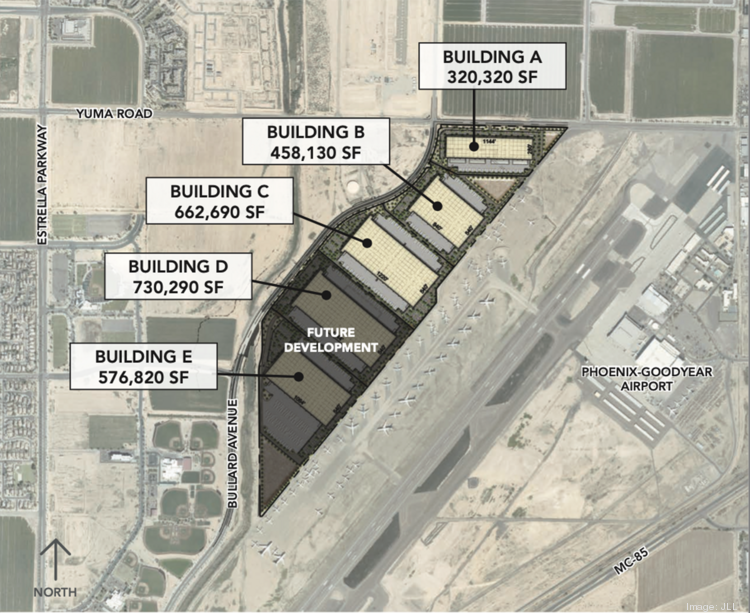 The adjacency to the Phoenix-Goodyear Airport will create additional commerce opportunities for businesses at this location, Mocarski said.
LGE Design Group is the design firm for the project, while the general contractor is LGE Design Build.
The owner of the land is Sun MP Investment Properties LLC, which has various holdings around Goodyear and the West Valley.
LGE Design Build also is the master developer of the property, and David Sellers, CEO of the company, is the lead for the ownership group that has the property under contract to purchase.
Pat Harlan, Anthony Lydon and Kyle Westfall of JLL are marketing the proposed buildings for lease.
Millions of square feet of industrial space are under construction and in the works for the West Valley to keep up with demand. The cost of renting industrial and logistics properties has been going up nationwide as well, and few places have seen prices rise as much as the Phoenix metro.
The Phoenix market came in at No. 11 in the nation after seeing a 12.1% year-over-year jump in base rents for industrial space, according to a new report from CBRE Group Inc., which used figures from late 2020 and the early months of 2021.
Source: Phoenix Business Journal